Bros. Game Shop

CLASSIC GAMES AND SYSTEMS
We carry Nintendo & Super Nintendo, N64, Genesis, Atari, SEGA CD, 32X, to name a few.  If you would like to re-live or discover the original video games such as Zelda, Mario, Castlevania, Contra, Space Invaders, Centipede, or Pong, you've got to check out our collection of classic games!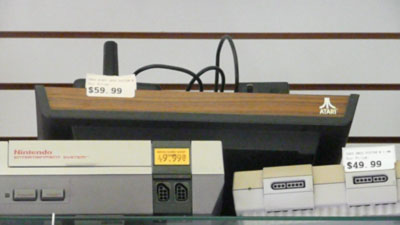 OLD GEN GAMES AND SYSTEMS
Looking for Saturn, DreamCast, GameCube, PS1, PS2 or original XBOX games?  You can't find these at your local GameStop.  Retro systems starting at $39.99 +tax!!!  We've got games starting at 0.99 cents!  We've got hard-to-find games, too!  The best thing is... they're all scratch free!  GUARANTEED!  Don't forget to ask us about Gameboy and Gamegear games.
RARE COLLECTIBLES
Suikoden, Arc the Lad, Rival Schools, Marvel Super Heroes vs. Street Fighter, EarthBound, ChronoTrigger, Conker's Bad Fur Day, Steel Battalion, Snatcher, ICO, Kingdom Hearts Final Mix, Ms. Pacman, Super Princess Peach.......3DO, Super Famicom, Nintendo Top Loader... WHAT???!!!!!!!!  Collectors, you know what I'm talking about!  These items are often hard to come by, especially in its original box, foam, and manual.  Our collection changes all the time, pick them up before it's gone! 
Pssst, if you put in a special request, we'll try to hunt it down for you.